Powerful Lessons from 100 Years in Business
It's a rare feat for any company to sustain itself for over 100 years, and there are a number of lessons we can learn from companies that have the staying power to last generations.
I have had the great fortune of being able to work for my family's business, Hill Brothers, for the last 20 years, and have been running it for the last 5. Last week we celebrated our 100th anniversary in style!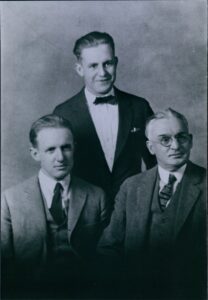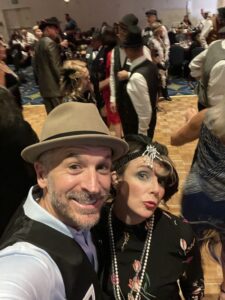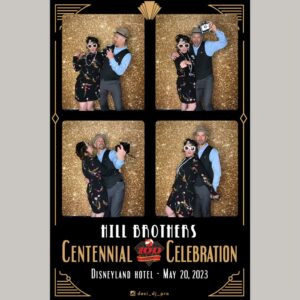 In this week's episode of the Flow Over Fear podcast, I wanted to share some of the powerful lessons learned from a five generation, 100 year old business. There are some common themes from businesses that survive this long – businesses like Nintendo, Zildjian, and others.
From their entrepreneurial beginnings to their legacy today, these companies have something powerful to teach us all about navigating change, cultivating relationships, and building a sustainable future. Here are some of the highlights from the episode:
– Patience and adaptability are essential in adding value and achieving success, both for companies and individuals. Balancing focus and adaptation can lead to growth and sustainability, while prioritizing the representation of oneself to the world over self-interest can lead to a more fulfilling life.
– Relationships and community are crucial to success, both at the individual level and at the company level. Legacy companies like Hill Brothers have built lasting relationships with employees and customers that extend beyond the company itself, contributing to their success over time.
– Building a healthy relationship with fear, both personally and within an organization, can help us rise above it and become sustainable. Whether through core values, discipline, or aligning with our purpose, we can learn to dance with fear and continue to grow and live a fulfilling life.
– Profit motive can cause companies to focus on self-interest or identity, but as a company stays in business longer, the meaning and legacy become more important. Legacy businesses that are still privately owned and adhere to their core values are sustainable because they create value that transcends the profit motive.
To summarize, the three lessons I share in this episode are:
Mastering the balance of focus and adaptation
Meaning and legacy transcend short term interests
In the end, it's all about relationships
We hope you found this episode insightful. Don't forget to subscribe, like, rate, and review the episode!
Here's to the next 100!
Three Things: Powerful Lessons from a 100 Year Old Business – YouTube
https://www.youtube.com/watch?v=POOANutZxuY

Transcript:
(00:00) the longer that a company stays in business the more it starts to transcend that that interest and the Legacy and and the meaning behind the company becomes so so much more important why do we exist why are we here hello everyone and welcome to the flow over fear podcast where it is our mission to help you to rise above fear and realize your ultimate potential in leadership and life I'm your host Adam Hill and it is my goal to share with you the human side of high performance my guests share their experience with fear
(00:42) anxiety struggle Challenge and most importantly despite all of it how they Rose above it to achieve incredible results so if you're ready to rise up let's get started hey everyone welcome to flow over fear and today on this solo episode I wanted to talk about something really really cool that happened recently and share some of the lessons that I've learned from it our company our family business that I've been running for the last few years just made it to its 100th year anniversary and last year we celebrated
(01:21) our first Centennial and that that is something that is is super you know inspiring to me makes me feel incredibly proud makes me feel incredibly humbled and honored to be a part of such a legacy and be such a small part of this Legacy that I've had the opportunity and the privilege of running it for the last few years and been employed by it for you know the last 20.
(01:50) it's really really been an incredible experience and I've learned a lot from that um and you know one of the interesting things about being in a fourth generation business uh that's been around for 100 years is there's not really a lot of companies around that have done that and so one of the things is there's not really a cohort of people where you could talk talk about some of the issues that are faced here or some of the Lessons Learned or or how uh uh you know how to handle certain situations because quite frankly there's just not a lot of of uh evidence
(02:24) or empirical evidence or or uh examples of it I mean we can look into the past and of course find some but uh um but it's very very they're very very few and far between um but uh but there are some lessons that I've learned that I want to share today just three three in particular that I wanted to share in today's episode um because yeah because my you know my perspective was was reforged last week if that's a word it was it was just my my perspective on the power of this Legacy has been you
(03:02) know solidified again and it was amazing to go to the Centennial party which we had at the Disneyland Hotel uh and and we did that for a specific reason was uh because Disney as you may know is also celebrating their Centennial they're also they've also been around for 100 years and interestingly uh Hill Brothers Chemical which is the company uh that that I currently run was founded in Los Angeles uh in in just literally a few blocks away from where six months later that's right we're older than Disney
(03:41) six months later Walt and Roy Disney would set up shop for the first time in Los Angeles so literally a few blocks away and then we evolved obviously separately and our corporate entity our corporate office was literally just a few blocks away from Disneyland by the time uh with by within the last few years um so we have been a neighbor a sister company if you will to Disney for a very long time so we had our party at the Disneyland Hotel it was an amazing night um you know I I got to speak my dad got to speak uh and and share some of the
(04:19) experiences and and I got to see the faces of the people that work within our company and um and the faces of the people that have built the Legacy uh over the course of many many years one person there that worked with our company for 53 years what was was there was still present and still despite the hundreds of years of experience in that room there was nobody there that had really been there Beyond um you know aside from the gentleman who worked there for 53 years Beyond much Beyond half of the time of the company
(05:00) has been around so the question becomes how does that Legacy sustain itself how do we how do we continue to operate and um and I did a lot of research into different companies that that have made it to 100 years and was really impressed by what I found there and and I think there's a lot of commonalities in in why they why they exist and if you think this is this may be a little bit more uh away from the central message of this of the theme of this show which is flow over fear then I I just want to say that that fear
(05:35) exists in organizations as well and fear exists in organizations uh which also shows itself as fear in individuals and and fear is something that also can be um you know if you learn to build that healthy relationship with it whether it be personally or within an organization you can learn to rise above it and become sustainable uh and and a lot of that comes down to the same principles we talk to regarding individuals relationship with fear comes down to core values comes down to being disciplined and comes down to being
(06:11) aligned with the purpose and moving in the direction of fear and dancing with it in such a way that you can continue to grow and live a fulfilling life and the same is true from an organizational standpoint so there's a lot of lessons that we can learn from 100 year old business that we can apply to our own lives to help us to uh to to build a better relationship with fear and build and and become more fulfilled over our lives so that when we reach the end of our lives uh hopefully many many many many years
(06:43) from now we can look back on Pride the Legacy we've we've had and by no means is this the end of Hill Brothers Legacy in fact it's just the beginning but as I looked out at the Legacy that was in that room at that time I could look back even just the small part that I played with a great sense of pride and joy that we've made it this far it was truly truly inspiring one of the one of the coolest experiences of my life um you know there there are uh very very few of us the companies companies that
(07:19) make it uh you know even past the first 10 years there's a very small percentage of companies that make it that far even fewer you know make it to the second generation in the companies uh and something like four percent make it to the third generation in the business uh and I think it's something like half a percent by estimates these that's the best they can do is estimate that uh make it to the fourth generation um and and 100 years but uh it can be argued that Hill Brothers has made it to the fifth generation because
(07:54) the founder employed his father so it could be an argument that made there so that the chances are very slim that that you know companies can make it that far but there are some common themes in those and in my in in researching different companies that have made it that far I came across a number of them and we know some of the common ones I mean Disney for one is make is is going to make it 200 years soon um you know Ford Motors Johnson and Johnson some of these Behemoth companies that have almost become so public that
(08:26) they're no longer really the the Legacy companies that they were they try to you know rest on their core values and I think but that but the fact that you know they've become such behemoths and that that you know and now that they're public it it drives this you know this profit motive that is stronger than than I think the culture in a lot of ways um that can be argued but uh but it's at least what I've seen I know that when it's public and when it's driven by market you know uh then really it's
(08:57) looking at short-term short-term values but when it comes to those 100 year old those Legacy businesses those those long-term businesses that are still privately owned that still that still live based on their core values what makes them sustainable in a lot of ways is is you know the value that they're bringing to the world the value that they're creating and that value that they're creating actually transcends The Profit the profit motive sure profit is important cash flow is important the numbers are important just
(09:33) like managing our budgets are important but it's not the first and and it's not the be-all end-all of of making that Legacy last uh there are really three things that that uh there are really three lessons about sustainability they come from 100 year old family business and the first is the first that I've seen is that they Master the balance of focus of obsessive Focus and adaptation and there are two perfect examples of this that I've learned about because when you look at those Legacy companies
(10:10) that that are still you know still have the ownership Integrity that they've originally had um or or the Integrity of their core values you know two names that come to mind are Nintendo that's right I said Nintendo and um uh and Zildjian uh Nintendo now you may think of them as the gaming entertainment Company the company that creates the Nintendo Entertainment System uh you're probably thinking yourself well they came out at in 1987 didn't they well that's when we first saw them but be long before that they started as a
(10:48) card as a playing card company back in the 1800s and uh and and so they made uh they made playing cards and over time over the course of a hundred years over uh more than 100 years they they had they evolved and changed so that then they got into video games and really really high tech video games so that today you couldn't distinguish the company it is now from the company it was then but here's the thing if you take any block of time those 10 years you'll see a company that is obsessively focused
(11:25) and they've struck the balance with that and being able to adapt over time they are obsessively focused if you take that if you take a 10-year block of time you'll see that they did that they that the changes that they made were deliberate so that they that the gr that the long-term evolution of the company went from playing cards to gaming entertainment but over to video game entertainment but over time they're they're they're their their core Focus stayed the same gaming entertainment it's what they do
(11:58) and the same is true with Zildjian and I think that's how you pronounce it so I apologize if I'm I apologize uh if I'm mispronouncing it but they manufacture symbols uh symbols for uh for drum kits and things like that if you've ever been to a rock concert or anything like that you look at the drum kit you'll see that that uh that Zildjian uh name on the symbols and this company was created quite by accident back in the 1600s it is 400 years old ladies and gentlemen uh in the six in 1623 the uh the founder
(12:32) of the company the namesake uh was trying to find was trying to make and make gold essentially like many people were back in the day people were trying to make gold and um failed miserably at doing so but discovered an alloy that made a really really cool noise when you hit hit it with a stick and ever since that time for 400 years they have been obsessively focused on making metal things that you can hit with a stick that's really their core Focus um and and so they were obsessively focused and they've adapted over time
(13:11) not to the extent that Nintendo has done it so these are two completely different companies both of whom were obsessively focused but both of whom knew how to adapt because you look at the way a symbol was used then in 1600s versus how it's done now and you can clearly say that the highest quality symbols in the world are these Zildjian symbols some of the highest quality video games in the world are Nintendo games and I know you PS4 people are gonna gonna get on my case about that but you're wrong um I played N64 and that was the best I
(13:48) mean gold my you can't you can't over you can't do any better than gold eye but anyway and that that's a Hundred Years of Legacy right there PlayStation doesn't have that um the second thing that uh that companies with a Hundred Year Legacy have that the lessons that we can learn from them or that they that the meaning Behind These companies the meaning transcends uh is the Legacy is bigger than us the meaning is bigger than any individual in the company uh it transcends the self-interest and that's an important concept because
(14:30) within any business within many business with the with uh that is full solely focused on profit motive you see companies that that are um that are more in terms of like of the self-interest or more in terms of of the identity of the company during that period of time and yes identity is important and and and um and we all want to you know we we're all interested in our in our self-interest but the longer that a company stays in business the more it starts to transcend that uh that interest and the Legacy and and the meaning
(15:11) behind the company becomes so so much more important why do we exist why are we here and for Hill Brothers the power behind that the power behind our company is is is not chemicals um it's not it's it's it's not the bottom line profitability or the distributions to the ownership that that we would make on a yearly basis or whatever it may be it's the livelihoods we create literally our our guiding mission is to create livelihoods meaningful livelihoods and careers for Generations that's what we want to be in the world
(15:51) and because we do that effectively because we have this Legacy and this meaning behind what we do because we provide chemicals for life uh environmental chemicals for life that that help our municipalities and our Industries and and and uh and all sorts of things because of that we are you know we're we're blessed with profit and that that can keep us sustainable so we look at the the meaning behind our business first between Beyond from centuries uh from Centennial businesses look at the meaning first The Profit
(16:28) comes from that because the Legacy starts to transcend the legacy of what they represent transcends that uh that first and foremost profit motive and part of the benefit of that is that you know companies that have exceeded that 100 year mark have this staying power have have this lasting um Power of they've already gone through that entrepreneurial phase and there's in each generation there's a new entrepreneurial uh spirit that comes into it where we drive adaptation and growth and Hill Brothers is in that
(17:02) phase right now where we're building on that however uh the way that that differentiates from somebody just or a company that's just starting or within his first 10 years is that uh that company still trying to work to build their identity to formulate it to shape it and to adapt it um to the point where it's like the growth from an infant to you know to a child there's a lot of growth that has to happen there with the Legacy companies the some of that identity is already formed even though we
(17:34) continuously are evolving and growing those changes happen those changes happen slowly and the Legacy becomes more powerful and it transcends the self-interest when the final thing that I want to share um that that the final lesson that I want to share from a 100 year old family business is that it's all about the relationships this goes back to what do why do we exist and and it does kind of relate to the meaning part of it but but in the end and this is true with with uh with us as individuals as well that in the end it is all about the
(18:17) relationships we have the community that we create now is that the great Fortune of looking out across the room of people that help build the legacy of Hill Brothers um I looked at all the relationships that we created and they extended well beyond that room and this is the powerful part is because there were there were a couple hundred people in in the room on on the evening of our celebration but the but each of those people had relationships outside of the company and those relationships were important to maintaining the legacy of that
(18:52) company or the legacy of ourselves those relationships helped continue to build us to what we were to the point that the influence that the that the that the reach we had that that the people that we've touched that the the people that 100 year old companies have touched you know extends into the Millions even if the customer base may be just a couple thousand or the employee base maybe maybe a hundred or two hundred the reach over the course of generations can be in the Millions and that's an important Legacy to keep
(19:28) keep hold of that's an important thing to take home from this is that it's not about it's not just about creating uh value or creating uh creating dollars that that that you know come into our business that's important to maintain the engine the important part is it's the relationships that we're building and how we're adding value to their those relationships that's the true currency of a fulfilling life the true currency of a fulfilling life is the authentic and meaningful relationships that we
(20:05) create a century-old businesses understand that and they build those relationships with suppliers with their vendors with their customers with their employees first and foremost their employees and that becomes what it's about that that builds into the Fulfillment nature of the business and you know I recognize how fortunate how lucky we are to have made it where we are today because over the course of a hundred years there's there's a there's a lot of things that can happen there's a lot of things that
(20:44) have happened throughout that history that could have taken us down I mean you had a great depression that we thrived through we had World War II that we thrived through we had various economic downturns and recessions that we thrived through we had a pandemic recently that we thrived through um and a variety of other things they could have taken us down and and that's not the end of it there will be more but it was our ability to become adaptable and to stay true to the meaning behind our business to our core values to what we represent in
(21:24) the world and to be patient with it to uh to patiently add value that's how we made it through and we are fortunate to be where we are and I hope that if you're listening to this that you got something from this individually that you know that there are lessons individually that we can you know that can help us to to better navigate our own lives and help our own sustainability in life that when we Master the balance of focus and adaptation you know we can continue to grow and and sustain ourselves that when we focus on our our own legacy
(22:11) and what we represent to the world and we put that above our own self-interest that we can become more in the world that we can that we can live a more fulfilling life in that way and when we can realize that the true currency of our world is relationships that uh that that's really what fills us up that's what life is all about you know that's when you realize what a sustainable and Beautiful Life this can be in an abundant life this can be I hope you're living in abundance today and I look forward to seeing you next
(22:45) time thanks for joining me hey everyone Thanks for tuning in to the flow over fear podcast if you'd like to learn more about getting into flow and learn the foundations of flow I have a free video series on my website at www.adamcliffordill.com called the foundations of flow feel free to go there and download it and start your journey to Rising above fear and achieving greater flow in your life if you like this episode and I'm guessing you did if you stuck around for this long then please do me a favor and hit
(23:18) the Subscribe button and you will receive notifications when I have new interviews new Recaps and new trainings that pop up on YouTube thanks again for joining us [Music] thank you [Music]