Executive coaching to help you break through barriers of fear and move from Frustrated Dreamer to High Performance Achiever
High Performance

Does Not Happen Alone…
Even if you have already made great progress as a leader, there is often another level you have yet to reach. But often we are constrained by self doubt, lack of certainty, or overwhelm. Under the influence of these elements of fear, you can end up holding yourself back.
It's easy to feel alone in these situations. If not managed properly, fear can have a major negative impact on your relationships, your health, and it can keep you from reaching your full potential professionally. 
But it doesn't have to…
As someone who has lived with anxiety my whole life, I am no stranger to fear. I am also no stranger to the demands of starting and running a business, balancing work and relationships, and maintaining a healthy and active lifestyle. From overcoming anxiety, to becoming an elite athlete, to running a nine figure organization, to helping other high performers achieve their best – these experiences have made me realize that we can never eliminate fear… but we can rise above fear.
That's where I can help.

 
The

Flow

Over

Fear

Framework
Flow

is the

Fuel

for a High Performance Life

My six part framework is a proven process to help you rise above fear and achieve greater flow. Leaders that leverage this process experience major results such as…
Greater lifestyle fulfillment.
More work/life balance.
Increased professional or athletic achievement.
Better health (more energy, mental clarity, and physical fitness)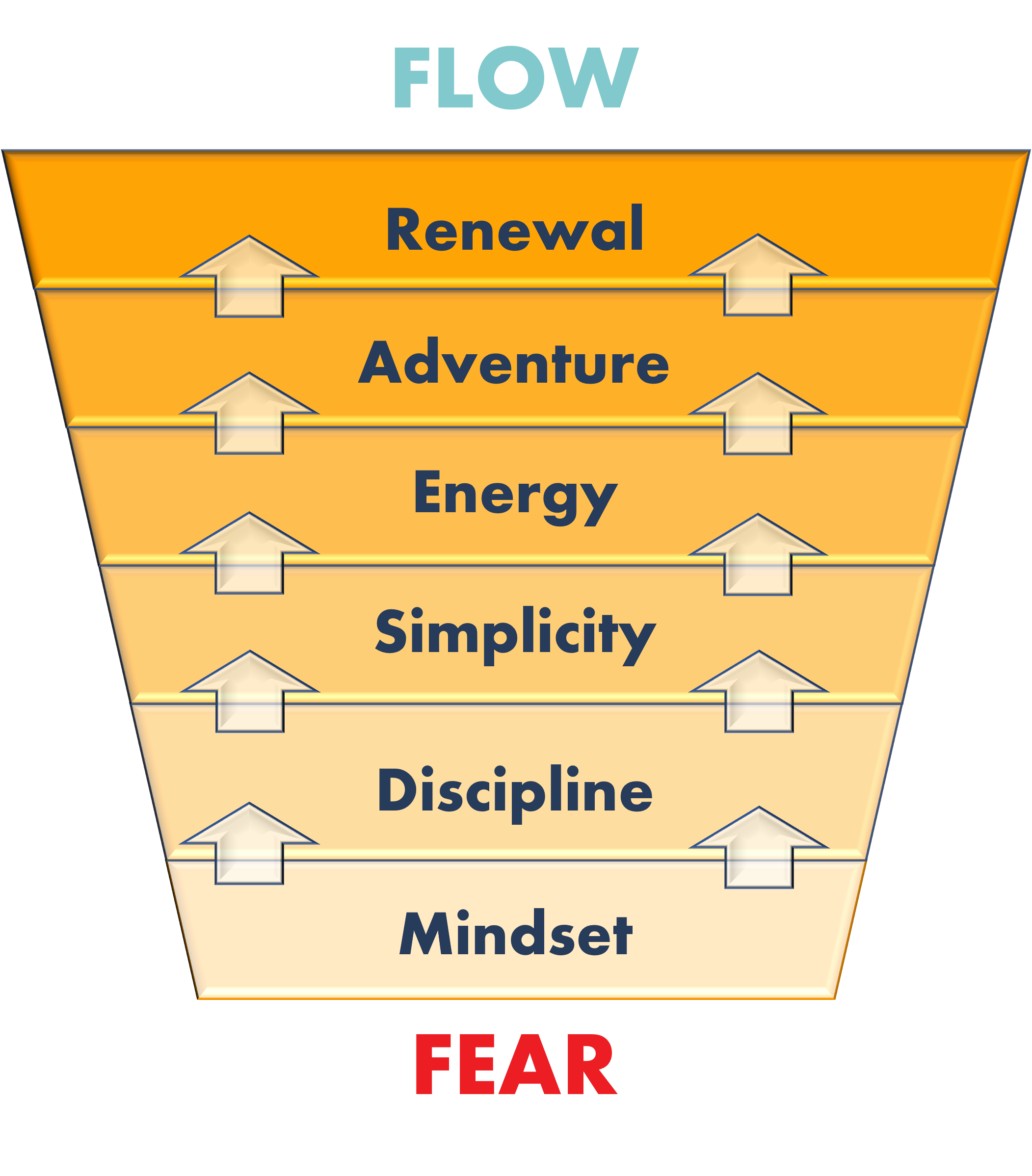 Are You Ready to Reach Your

Ultimate Potential

and Experience

Lifestyle Fulfillment?
Join Flow Over Fear Executive Coaching
Now!
Executive Group Coaching
$197/Month
Includes:
On Demand Course Content 
Supporting Course Resources
Membership Community (coming soon!)
Weekly Group Coaching Sessions
Expert Guest Coaches (coming soon!)
1 on 1 Executive Coaching
*Call for Availability
Includes:
Everything in the Group Coaching, plus… 
One on one sessions weekly or biweekly
Unlimited email support
Access to additional one on one coaching.
Fear is Real… But it Doesn't Have to Hold You Back
We all experience fear in some way, and it's not easy. I know what it's like to be paralyzed by fear and anxiety and know how hard it can be. What I have also discovered though, is that while you can never truly get rid of fear, you can develop the courage to face it, and ultimately rise above it. When you learn to rise above fear, it no longer becomes an obstacle to our achievement. You achieve greater FLOW, which allows you the freedom to pursue YOUR greatness – for yourself, your family, and those you choose to impact. 
I know what you're capable of and that's why I created this program – To help you break the barriers of fear and reach your ultimate potential. 
About

Adam Hill
Adam Hill is a CEO, bestselling author, international speaker, and executive coach helping people to rise above fear and realize their ultimate potential in leadership and life.   
After overcoming alcoholism and unhealthy habits, Adam reframed his anxiety disorder into a superpower, becoming a top amateur triathlete, inspiring leader, and CEO of a nearly nine figure multigenerational family business. When he is not running a 100 year old family business, speaking, coaching, or chasing new levels of achievement, chances are he is wearing a Speedo in front of a camera, attempting to create humorous media content. Whether or not he's successful with that, you can be the judge.